Air New Zealand's chatbot "Oscar" used to be able to answer just 7% of customer queries. With that in mind, it makes sense why many businesses are unsure whether to deploy or extend the services of their chatbots.

But fast forward in time and "Oscar" now answers over 75% of customer queries. It has now been also been deployed in two further markets. But how did Air New Zealand make such a significant improvement?

The simple answer is by using AI!
That is why in this week's post we provide you with five examples of how AI and advanced analytics can greatly improve the performance of your customer service chatbot.
1) What are customers about and when?
Chatbots are a fantastic source of data, and one of the main areas of data they collect is what are customers asking about and when. What topics are increasing or decreasing in popularity over time? Are some topics peaking at certain times of the day, week, month or year? Also, are there topics where customers prefer to speak to a human over a chatbot and vice versa?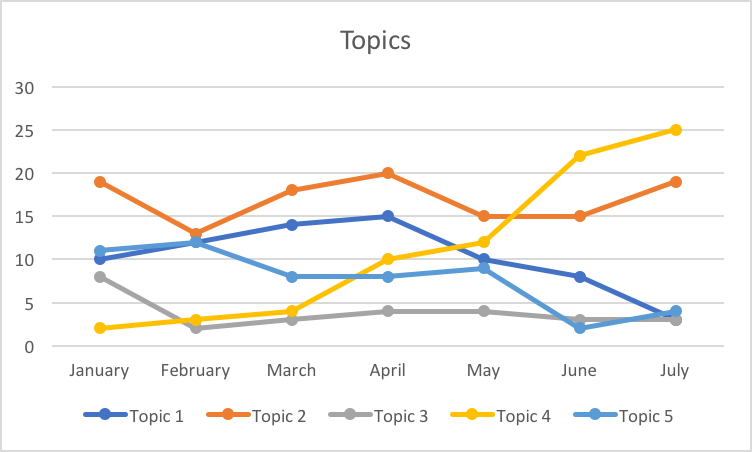 In the chart above we can see how the importance of specific question topics can vary over time. For example the slow rise, peak and rapid decline of Topic 5, and the regular peaks of Topic 2. The rise could mark marketing campaigns and the decrease of interactions could show us how internal changes affect customer requests. It is important to note that as well as topics increasing and decreasing in popularity, some may remain consistent over prolonged periods.

Knowing when customers are going to contact and what they are going to ask enables businesses to prepare better and update their chatbots. This kind of information also aids in the planning and marketing of promotions as well as customer-specific offers.
2) Identify outdated information
When we look at the chart, we see that the importance of Topics 1 and 5 have declined, the latter much more rapidly than the former. If the latter as described previously had been a promotional offer, these details should be removed from the chat bot as soon as the offer has ended.

We all know that providing outdated information in person or via our websites can have a negative impact on customer opinions and this is no different with a chatbot. In fact, a study found that 73% of Americans said they wouldn't use a company's chatbot again after a bad experience, making it even more imperative to remove or update outdated information.
3) Better understand customer emotions
Not only can you use this information to understand what customers are asking and when you can also analyse customer conversations with your chatbot to find out how they are feeling. This enables you to minimise bad customer experiences and address negative conversations and outcomes quickly.

Sentiment models, such as the one shown in the diagram above can be used throughout the conversation process. Are customers more or less happy when contacting about certain topics? Are customers happier with some responses than others? Knowing this information enables you to constantly improve your chatbot, while at the same time improving customer opinions and increasing sales.
4) Improve conversation flow
Knowing what questions customers a likely to ask and when, as well as how they feel, enables you to make a conversational flow that answers customer queries as quickly and effectively as possible.

For example, better understanding and sentiment awareness would have enabled the customer in the picture (left) to receive an alternative solution, such as a call back from a human agent. It is worth noting here that 61% of people would be more frustrated if a chatbot cannot answer there query than a human agent. Further emphasizing the need to constantly review and improve chatbot interactions.

Focusing on topic areas with negative feedback first will enable you to see the conversation topics and outcomes that require the most serious attention. Regularly reviewing and analysing these conversation flows will provide your customers with the most appropriate outcome for them at any given time.
5) Feedback
In 2016 Apptentive found that 97% of customers said they were at least somewhat inclined to remain loyal to a company if it took on board the feedback they provided. Having a chatbot is not just a great way to collect feedback and improve the service you offer customers. It is a fantastic opportunity to increase loyalty because the nature of chatbots and AI is to constantly learn and improve, and the feedback from users is the key to this.
The takeaway
The benefits of your company using a chatbot as part of its customer service operations are enormous, 24/7 support for customers and reduced costs for your business to name just two. But how do you get the most out of this technology?

In this week's post we provided the following 5 ways that AI and advanced data analysis can help to vastly improve a customer chatbot:

1) To let you know what customers are asking and when. With this information, you can better prepare and update your chatbot as well as target promotions more accurately.

2) Identify outdated information. Advanced analytics will identify those topics which are decreasing in popularity and contain obsolete information.

3) Better understand customer emotions. Sentiment models will help you to determine which areas customer think you are doing well, and which you are doing more poorly. It will also help you to identify issues and customers that need a fast resolution.

4) Improve customer flows. Collecting all of the information above, as well as feedback, will help you to create conversation models that answer customer queries more effectively.

5) Feedback. Chatbots are an excellent additional source of customer feedback. Their feedback will also help to improve your chatbot and increase loyalty.

Are you looking to improve your customer service chatbot? Contact us to find out more about how we can help you.