When it comes to our software, we are always on the lookout for improvements for giving our users the best value. We base any version update or upgrade on what our customers have wanted or needed to make their lives easier. We want to provide the best user experience possible, so we constantly gather feedback from our customers.
It is now time for a new version, which enhances the user experience, brings new features, and eases the day-to-day work. It changes both the way you can analyze customer service conversations and brings more efficiency to the daily tasks of customer service. We will be rolling out this new version starting in October 2021 – ask your Success Manager for the schedule for your organization.
Three main changes are coming in this new version, the Agent's view, notifications for daily call volumes, and enriched data points. We will give you an overview of the main changes in this article.
Agent's view – how can an Agent benefit from the new version of Feelingstream application?
The Agent's view is the biggest change for the software – a brand new feature that is especially exciting. Up until now, Feelingstream has been a tool used by Team Leads/Supervisors, Product Managers, or Quality Managers. It has been used to assess the Agents, gather data for training, product improvement, service quality assessment, and the like.
With our new version, the Agents get access to Feelingstream. This way, they have an overview of their own analytics. It is an amazing feature for the Agents to be able to monitor themselves. Each Agent can create their own dashboard of statistics that are important for them. For example, they can monitor their average call duration, talking ratio compared to the customer, or the changes in their call volume over the selected timeline. The Agent can better understand their performance. If a quality manager has advised that the Agent should work on certain aspects of their work, the Agent can monitor them.
The managers will still have an overview of each Agent's work as before, but there will be greater transparency with this new feature. Also – if a supervisor needs to assign tasks or leave comments for the Agent, they can do so in the dashboard. The Agent will get a notification of each comment. In the era of home offices, this will make work much more efficient. The Agent is notified regarding tasks or feedback within seconds. Agents can then take action and notify their manager accordingly.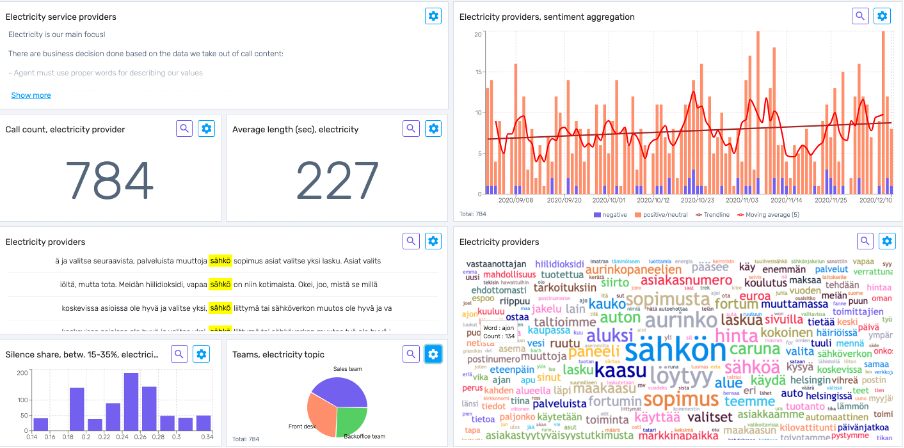 Notifications of daily call volumes – enhancing knowledge for business decisions
The new version of the Feelingstream software also includes email notifications. These are beneficial for getting daily or weekly overviews of data that is needed for your business decisions.
We have previously written an article about making business decisions based on data. When you have your business questions ready and set out, it is important to gather relevant data to answer these questions. The decision-driven approach works well with the Feelingstream platform, as you can get the data that you need by an automated analysis.
What do you need to be notified about? You can decide that. Let us bring you some examples:
If you are responsible for the contact center operations, you most likely want to see the overall volume of yesterday and the daily changes.
What do your customers call about? With the Feelingstream's automated speech recognition, the contents of the call are available; calls are classed based on reasons. We can send you data on the biggest changes to call reasons, so you know what's important at this time.
When it comes to customer service quality assessment, you may want to know the call tempo by Agents or topics. We can share the average number of words per minute with you, which can vary anywhere from 110 to 180.
There is a lot more that you can be notified about. You can choose. The main goal is to give you the information that you need and could use to enhance the way you work each day. We want to make it comfortable and easy for you.
Enriched data points
Each call or email has a set of evaluations listed to it in the Feelingstream platform. There is a lot we can analyze or measure and our experience comes into play here. We enrich data with classification models (topic, sentiment, area, product, and others) or with measuring crosstalk or silence (read more about measuring silence). Now, with our new version, we have added separate pre-made storyboards that are ready for you to use. Enriched data gives you more visibility and data variation.
You get to decide what you want to focus on. We just make it easier for you to find it. You can also create your own storyboards just as you need them. You can pick up the easier small issues that need a quick fix or focus on the larger, more complex problems you have not been able to solve so far. It is all about what you and your company need.
There's much to come with the new version – be a part of it
All in all, we aim to please. This new upgrade of Feelingstream is a big jump ahead and we will evolve with our customers' needs in the future. There will also be other improvements that you will notice when upgrading to the new version.
If you have not previously used Feelingstream to advance your business and improve your customer service, maybe the time is now?
Let us make it clear and bold:
– Feelingstream transcribes all of your calls into text and use AI for automated analysis of all of your contacts
– We provide storyboards with enriched data; give you the option of classifying and analyzing data based on your needs
– We have users with separate access for different levels, management, and Agents
– You can improve your customer service, products and services and your sales with the help of our platform
– We listen to our customers and enhance our system based on their needs
As mentioned earlier, we will be rolling out Feelingstream version 1.5 this fall, starting in October. If you are new to us and want to hear more, make sure to contact us for a demo.