When you think of great customer experience design, do you often also think about having great customer service from a company? Because we do. Offering quality customer service can differentiate a company from its competitors. Good service can make or break a customer experience.
To offer great customer experiences, you need to ensure that your service processes make you stand out in a good way.
In this post, we talk about customer experience in customer service processes. We will also share how you can use the Feelingstream conversation analytics tool to back up your service process decisions.
What does customer experience consist of?
This question has many answers when you think of it, as customer experience is a complex topic.
To quote a Harvard Business Review article: "Customer experience encompasses every aspect of a company's offering—the quality of customer care, of course, but also advertising, packaging, product and service features, ease of use, and reliability" (HBR 02/2007, Understanding Customer Experience).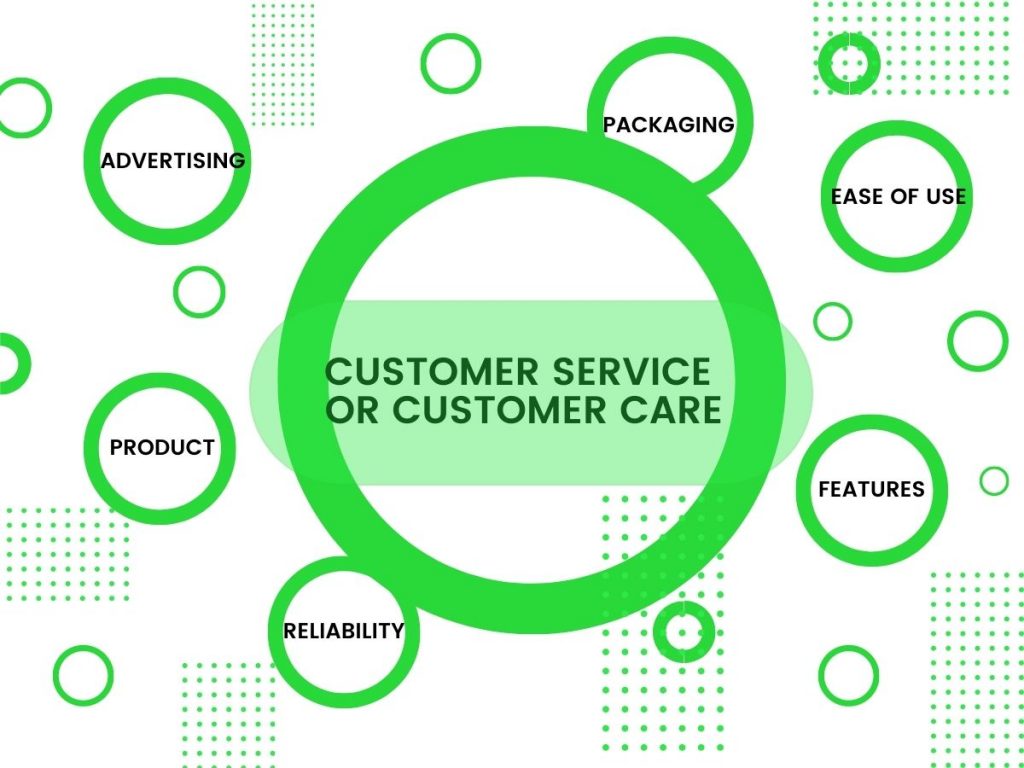 Notice that "of course" after customer care. The fact that customer care is first. It is also how important we deem it to be.
Why is quality customer service so crucial to customer experience design?
Whereas customer experience does have many components, it is increasingly clear that the service and customer service part is becoming more crucial. Customers have more choices than they ever had before. They are well-informed. They can research and find your competitor within seconds. The option to move on to the next business is easy.
So – to hold on to your customers, you need to treat them with great care. Offer great service. Be mindful.
It is easier to keep existing customers happy than to keep constantly looking for new ones. Therefore, it is vital that you design your customer service processes and flows in a way that you offer a good customer experience. We propose that you focus on a few key elements when doing that.
A personalized approach – making the customer feel appreciated
You will have noticed personalization components to customer communications when you see emails from companies with your name on them. Some companies analyze your previous purchases or pages you've visited to give you special offers. That is something that should also carry over to your customer service calls.
How can customer service agents personalize conversations?
Agents should use the customer's name. So simple yet efficient. Not just repeating it once but saying it a few times in a conversation – the customer will notice it.

Agents should make it clear they have checked the customer history for previous contacts. It is important that customers feel that.


Agents should match the customer. This means matching the talking tempo, the terms the customer uses and repeating back what the customer has said. Matching makes agents less "robotic", more human, and approachable.


This picture above shows that with Feelingstream, users are able to compare the talking speed of the customer and Agent and review conversations where there's a difference in tempo (the exact difference is shown).
Good communication – make the customer feel heard

When a customer service agent has tools that help assist the customer easily and without distraction, the agent can be more present in the conversation. It is especially true for calls. Long silences and pauses can be very awkward for the customer while waiting for the agent to do something. If the agent can find information quickly, keep up the conversation, and listen with intent, the level of communication is instantly improved.
Automation is one great option when it comes to enhancing customer communication. If the agent can focus on the customer and listen instead of categorizing the conversation topics and writing notes during the call, they will be more present. Feelingstream offers automated after call notes and topic classification. These features can help take the load off the agents for them to be more efficient. This also goes towards offering a more quality service.  
Customer service processes can be improved in various ways to raise the communication level, such as:
using scripted sentences or guidelines for the agents with phrases that show that the attention is on this customer alone 
giving agents access to efficient tools to help customers quickly and find information fast 
automatic notes and topic classification for subjective and standard notes that agents can rely on when reviewing customer histories 
training agents to avoid monologues and keeping up a dialogue with customers 
constant analysis of customer sentiment and gathering feedback from customer conversations to review processes and train agents 
advise agents to make sure the customer does not have any questions left in the end of the call and that they feel their issue is resolved 
Building relationships – create loyalty with good service
Great customer experience design is very important to create loyalty amongst customers. Customers are more likely to be loyal when they have good quality service from your support and feel that you're building a relationship with them.
Customer service agents need to resolve issues on the first contact. It is why we have metrics like average handling times and first contact resolution. What is also important is that instead of just measuring these KPIs, processes are in place that support resolving every contact efficiently and making the customer happy in the process.
There is one specific sentence that you should put at the end of your customer service call or chat flow for that purpose.
"Is there anything else I could help you with?" – It is such a simple question, yet often overlooked.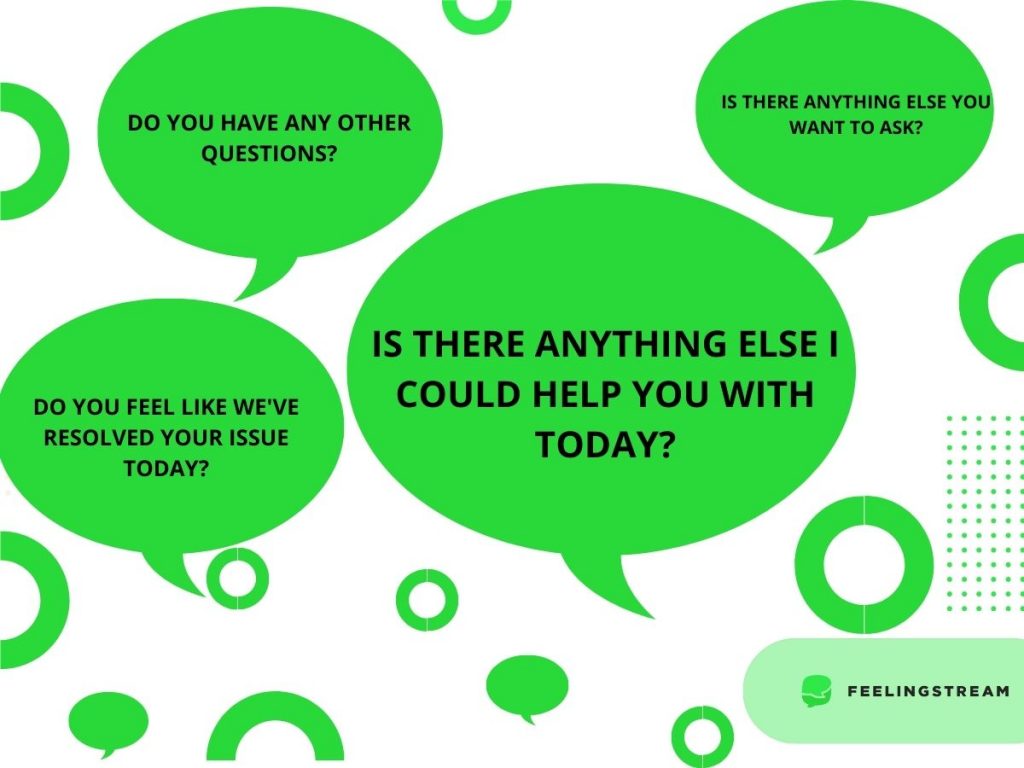 Why should agents ask this?
Firstly, if you have a happy customer, this question shows good intentions, and that the agent wants to make them happy – this is good service.
Secondly, if there's a slightly difficult call and the issue is not yet resolved, the customer needs to do some troubleshooting for example – the agent asks this because they want to make sure the customer has the information that they need and they can confirm next steps.
Finally, if there's a frustrated customer at the end of the line, the agent may be hesitant with this question. Still, make sure they ask it. Asking this question can be seen as putting in the effort for turning the contact over into a positive one.

How to analyze these aspects of customer service?
With the Feelingstream conversation analytics tool, you have access to all customer emails, chats, calls, and feedback in the form of text. It gives you the chance to not only measure KPIs like average handling time or the First Call Resolution we mentioned earlier. The tool also offers you the option to automate tasks to reduce agent workload.
Conversation flows often benefit from scripting or suggested phrases. With Feelingstream, you can analyze the use of such phrases. You can not only see how Agents use these, but how much they do, how the customers react and can find out the sentiment of each conversation.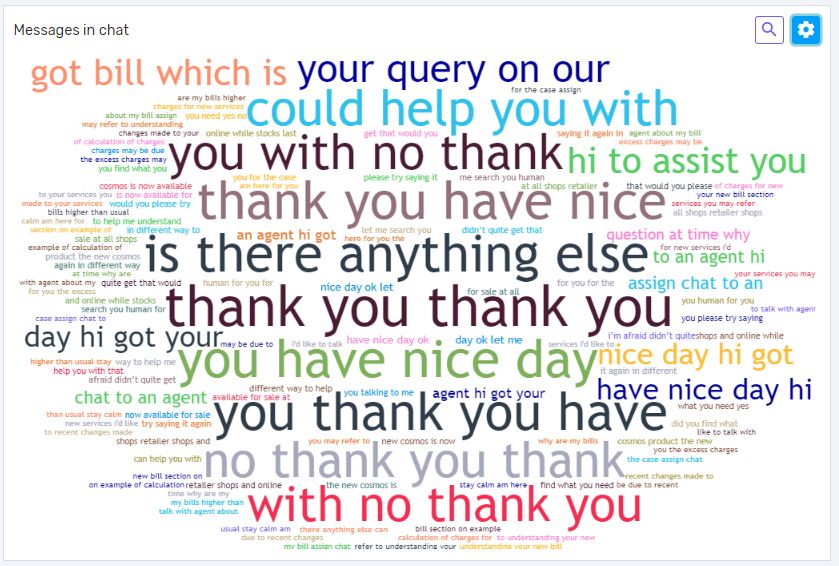 Conversation flows often benefit from scripting or suggested phrases. With Feelingstream, you can analyze the use of such phrases. You can not only see how Agents use these, but how much they do, how the customers react and can find out the sentiment of each conversation.
Having such visibility into conversations gives you the chance to improve the processes and update the terms that agents use to match the customers more easily. You can create better communication by listening to your customers.
Customer conversations are a never-ending source of customer feedback – not only for your customer service but also for your product, your website, etc. Make the most of it with the Feelingstream conversation analytics tool.
Thank you for reading this post! Did we answer your questions? Is there anything else we could help you with? You can book a demo or contact us directly to hear more about our conversation analytics tool and its capabilities.