Time is one of the irretrievable resources that people can't get enough of. Whether you're a rookie or an experienced specialist, you'll always need another hour or two to cross off a few more tasks from your to-do list. To get more done, you must simply improve your time management skills, but that's easier said than done, right? The key to successful time management is to prioritize your daily tasks. And why on earth would you want to waste precious moments on things that can be done more easily with a little help from technology. This is where Speaker comes in!

Speaker – transcribed by Feelingstream

We are more than thrilled to introduce our new free to use real-time audio transcription app for spontaneous speech. Forget about writing memos or notes and use the Speaker app instead! An easy, fast, and accurate tool to transcribe your meetings, lectures, voice memos or interviews both in real-time and in a recording. Our biggest advantage is, that we are using the AI-driven conversation intelligence solution that we have developed by ourselves, offering speech-to-text models in multiple languages. Our technology works through Speech Recognition (ASR) and Natural Language Processing (NLP). And not to brag, but we are #1 providers of ASR and NLP in Scandinavia!

Spontaneous speech is our superpower

Many ASR applications find it difficult to process spontaneous speech due to its peculiarities. People often express themselves differently while speaking, in comparison to when in writing. The spoken language contains pauses and interjections, people speak in phrases, start from the beginning several times and often use sentences which are not well-formed. But for us, nothing is too difficult and that's why we've specially trained our ASR models for spontaneous speech, and so far, we've done a great job!

A is for accuracy!

Accuracy is the key element for precise transcription, and we have worked hard to achieve the highest possible score. Our ASR models have reached 85-90% of accuracy in various languages, which is a great result. Our Finnish speech-to-text model has been tested to be 25% more accurate than Google and this makes Speaker the most accurate transcription app for spontaneous speech in Finnish. And to have such high accuracy score for a complex, yet beautiful language is something to be proud of!


You can use the Speaker app in multiple ways. You can either transcribe work meetings, lectures, or interviews in real-time. Alternatively you can magically turn your audio recordings into text with a few simple steps. All you need to do is sign up!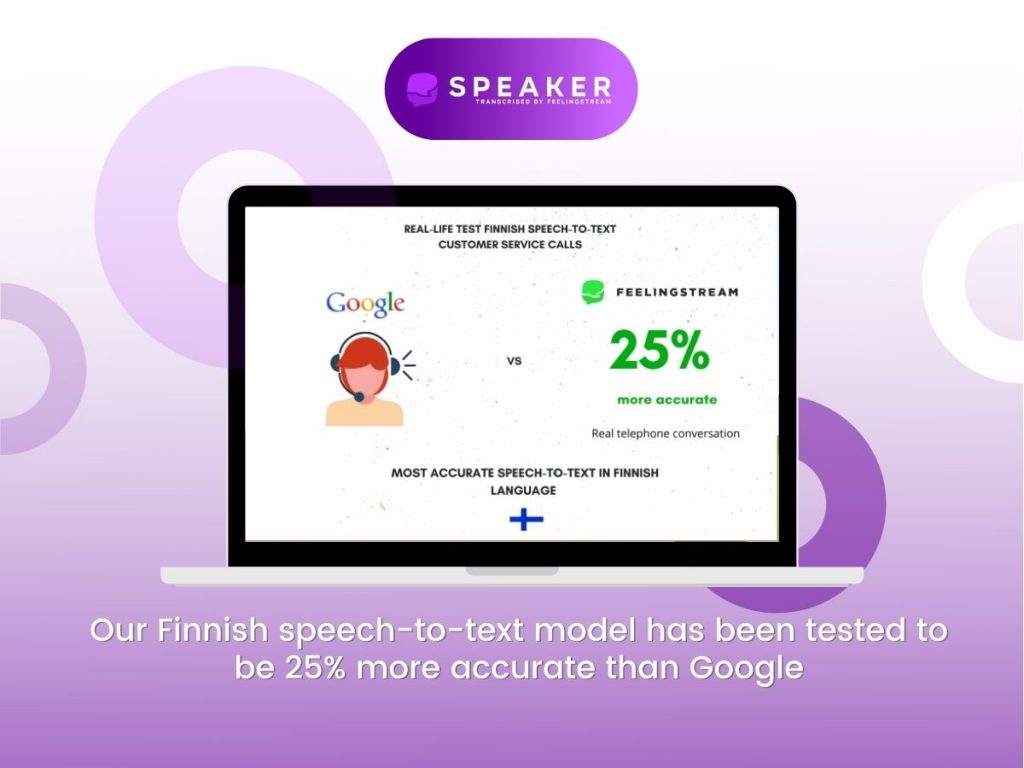 Concentrate on the meeting, not taking notes!

Taking notes can easily draw your attention away from the meeting. This is because you concentrate on writing down all the information, but are not thinking along as much. But a good quality memo is just a few clicks away! Speaker helps you make the most out of your meetings. With our real-time speech-to-text transcription app we offer you the chance to engage more in meetings without having to worry about taking notes. Once transcribed, you can download the memo easily in various formats and share it with your colleagues for further action.

Lectures will never be the same when you have Speaker to back you up

We've all been there – the lecturer speaking non-stop, tons of important information to write down and your hand already starting to hurt. But that's ancient history now! The Speaker app will take your lectures to another level. We have trained our transcription model specifically for spontaneous speech. Once you've opened the app, signed in, and chosen the correct language you're ready to go. The only thing left to do is simply record the lecturer speaking. The automated speech recognition model then takes the audio and transcribes it into the text as they speak. There is a very slight delay (200ms) and you will see the words that are being spoken transcribed on-screen. You can save the transcription for later use.

Farewell to manual transcriptions!

Did you know that it can easily take you 5-6 hours to manually transcribe an hour-long audio recording? Of course, it depends on your typing speed, the number of speakers, the speed at which they speak, and your experience with transcribing. But why would you choose to spend your time manually transcribing if Speaker could do all the hard work for you! Once you've signed up, you can simply upload the audio recording in either .mp3, .wav, .aac, .ogg, or .m4a. format, and let the Speaker app do the rest! You can save the transcription for later use.

Tim Ferriss knows that being busy does not automatically translate into being productive, so why not use the technological wonders to improve your time management skill and let AI do all the little time-consuming tasks for you!